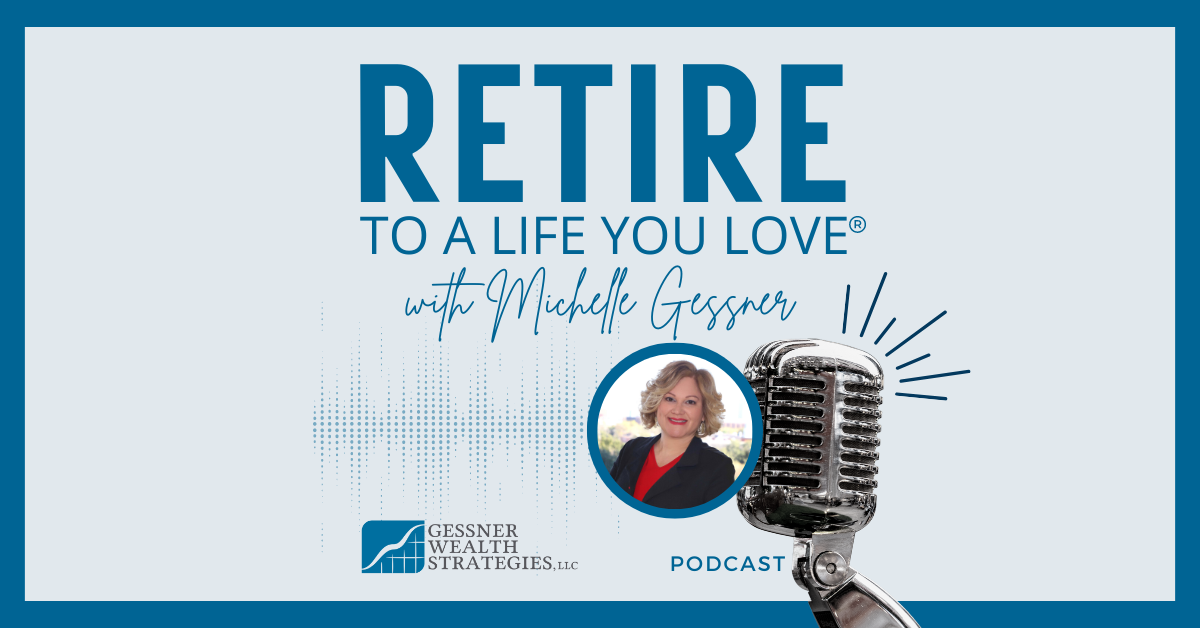 Master Your Tax Planning For Retirement with Sarah Brenner (Ep. 8)
Podcast: Play in new window | Download | Embed
Join Michelle Gessner, CFP ® as she chats with tax attorney and educator Sarah Brenner from Ed Slott and Company, LLC. With over 20 years of experience, Sarah has become a trusted resource for financial advisors and their clients across the nation. Listen as she shares her insights on how you can navigate through the complexities of retirement and tax regulations. 
In this episode, you will:
Resources:
Connect with Sarah Brenner: 
Connect with Michelle Gessner:
About Sarah Brenner:
Sarah has worked for almost twenty years helping clients solve complex technical IRA questions.  She has been a contributing writer for many IRA texts, articles, and training manuals and has been quoted in national financial and tax publications such as CCH IRA Guide.  
She is an experienced speaker who has educated thousands of professionals in the financial industry including attorneys, CPAs, bankers, financial advisors, and brokers on retirement plan rules.  Sarah has won praise for her ability to communicate complex laws in an easy-to-understand way and provide practical strategies for clients.
Sarah is a contributing writer and editor for Ed Slott's IRA Advisor newsletter, distributed to thousands of financial advisors nationwide, and writes for several areas of the company's website, www.irahelp.com. Sarah also serves as a valuable resource for the members of Ed Slott's Elite IRA Advisor Group™, a 400+ member organization of some of the country's top financial advisors who are dedicated to becoming experts in IRA distribution planning. She consults with firm clients and creates IRA course manuals and training programs for financial advisors.
Sarah is a graduate of Smith College and Villanova School of Law.  She is a member of the Pennsylvania Bar.  She practiced law with a concentration in elder law for several years and for fifteen years was a senior consultant with PMC, Pension Management Company, an independent IRA consulting firm for financial organizations nationwide.
About Michelle Gessner: 
As a CERTIFIED FINANCIAL PLANNER™ professional, Michelle is passionate about building a life plan for her clients and helping them see that they have choices, which often comes to them as a pleasant surprise. She is an independent thinker and a huge advocate of her clients' interests. Her greatest joy is working to do what is right for them and be their voice.
Michelle has a B.S. in Finance from the University of Colorado, Boulder, and an M.S. in Management from Boston University, Brussels. Growing up in Montana and moving to Colorado for college, she took out student loans and worked her way through all four years. After graduating in 1987 with honors, she accepted a job at Shell Oil in Houston, and worked her way up the corporate ladder to a management position before leaving in 1992 for Brussels, Belgium, where she lived for 4 years. In Brussels, she learned about different cultures and basic conversational French as well as pursuing and earning a graduate degree in management. 
As a CERTIFIED FINANCIAL PLANNER™ professional,  she is held to the highest standards set forth in the industry. She surrounds herself with a back office of experts in tax and investment research so that her clients have the best of both worlds – the resources of a large firm with the caring, dedication, and personal service of a small firm.