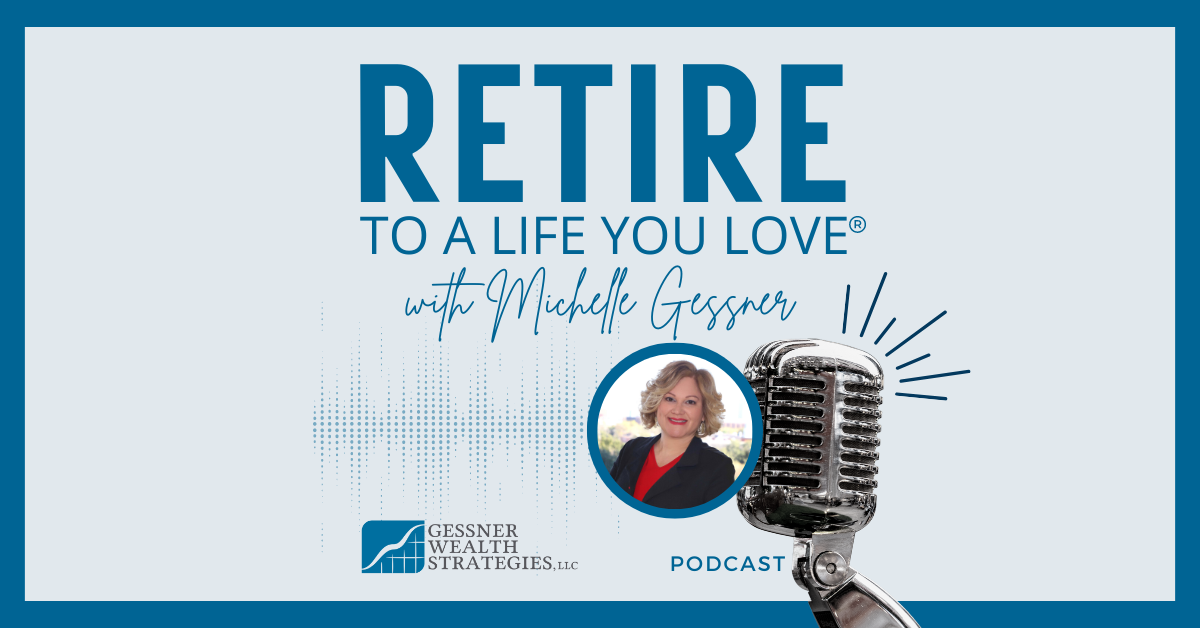 Planning Beyond Today: A Look at Long-Term Care Planning (Ep. 7)
Podcast: Play in new window | Download | Embed
Don't wait for tomorrow, next week, or next month to figure out your long-term care plan. Now is the time to equip yourself with knowledge so you can properly plan for your future. 
In this thought-provoking episode, Michelle Gessner, CFP® and host of the Retire To A Life You Love® podcast walks listeners through long-term care options and possible scenarios that could affect you and your family.
If planning for long-term care frightens you, or you think you're simply not old enough to plan, you need a reality check. Every day, we are all getting older, and the fact of the matter is most people are not financially ready for what could possibly happen as they age.
Join Michelle as she tackles common questions regarding long-term care, provides invaluable insight from the perspective of a CERTIFIED FINANCIAL PLANNER™ professional, and shares some startling statistics about our aging population.
Gain information for yourself or to share with your family about:
The various types of long-term care available; assisted living, nursing homes, adult daycare, and at-home nursing care. 

Startling statistics that will propel you to take long-term care planning seriously

The expenses associated with long-term care, including discussions around Medicare and Health Insurance

What is long-term care, and how to know if you or a loved one requires assistance

How the latest insurance policies work that may be less expensive than you thought

And more!
Resources:
Connect with Michelle Gessner: 
About Michelle Gessner: 
As a CERTIFIED FINANCIAL PLANNER™ professional, Michelle is passionate about building a life plan for her clients and helping them see that they have choices, which often comes to them as a pleasant surprise. She is an independent thinker and a huge advocate of her client's interests. Her greatest joy is working to do what is right for them and be their voice.
Michelle has a B.S. in Finance from the University of Colorado, Boulder, and an M.S. in Management from Boston University, Brussels. Growing up in Montana and moving to Colorado for college, she took out student loans and worked her way through all four years. After graduating in 1987 with honors, she accepted a job at Shell Oil in Houston, and worked her way up the corporate ladder to a management position before leaving in 1992 for Brussels, Belgium, where she lived for 4 years. In Brussels, she learned about different cultures and basic conversational French as well as pursuing and earning a graduate degree in management. 
As a CERTIFIED FINANCIAL PLANNER™ professional,  she is held to the highest standards set forth in the industry. She surrounds herself with a back office of experts in tax and investment research so that her clients have the best of both worlds – the resources of a large firm with the caring, dedication, and personal service of a small firm.